A. Transportation information: To arrive at Tsinghua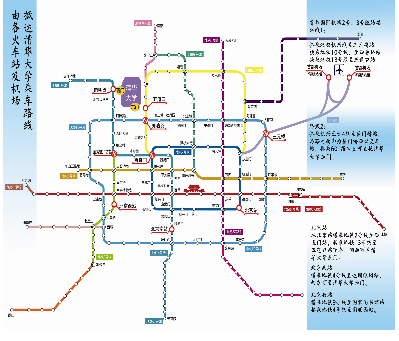 B. Campus Area Facilities
Tea and Coffee Houses on Campus
1. Jin Chun Yuan Tea House ( Jin Chun Yuan Guesthouse Lobby)
2. Shui Mu Bio-Garden Tea and Coffee
Half way between Jin Chun Yuan Guesthouse and Jia Suo Guest House by the Lotus Pond on the Huang Dao Island, 010-62798288
水木生态园,近春园荷塘小岛
3. Shi Nian Coffee
Diagonally opposite of Meng Min Wei Concert Hall, 010-62798291
拾年咖啡,清华大学蒙民伟音乐厅斜对面
Services on Campus
(Student volunteers are happy to help)
1. Post Office is located in the Zhao Lan Yuan Shopping Area, opposite of the Old Gate (see Campus Map).
2. Banks are next to and behind the Post Office in the Zhao Lan Yuan Shopping Area, ATM available.
3. Grocery stores and minimarket are behind the Post Office in the Zhao Lan Yuan Shopping Area.
4. The University Hospital is next to Jin Chun Yuan Guesthouse.
Telephoning and WiFi
WiFi is available in the lobbies and conference rooms of Jin Chun Yuan. Laptops can be connected to the internet free of charge via cables available in your room.
You can make international calls from your room line (charged to your room) or use your iphone with the password assigned to your room.
The voltage in China is 220V. You would need a convertor to use electronic appliances whose voltage is below 220V. It is strongly recommended that you bring with you a universal travel adapter to plug in.
All conference venues are equipped with Wifi, projector and laptop.
C. Travelling in Beijing
Several websites are recommended for travelling around the city.
The official website for tourism by the city council is http://english.visitbeijing.com.cn/ (English), http://www.visitbeijing.com.cn/ (Chinese).
In addition, two popular websites consulted by travelers are Timeout (http://www.timeoutbeijing.com/VisitingBeijing.html) and China Highlight ( http://www.chinahighlights.com/beijing/).
For famous tourist attractions in Beijing, the ranking at Tripadvisor ( http://www.tripadvisor.com/Attractions-g294212-Activities-Beijing.html) might be a good reference.
Last but not least, the electronic map of Beijing Metro Lines can provide much help (http://explorebj.com/subway/ ).